Weddings are an emotive topic; Harry Potter is…also an emotive topic? So it is to be expected that you are feeling some very strong emotions following AMT328's mention of a Harry Potter-themed wedding. Look how worked up Steven is:
The "why not" for a Harry Potter (or similar) wedding: because it's the very worst kind of forced fun. The very idea of going to a wedding where people "play Quidditch" makes me squirm with awkwardness, even considering that I'd obviously sit inside at the bar with the older members of the wedding party. I would rather not go at all than endure being around that, which I know is totally irrational, but there we go.

Like Steven, we intimated that wedding guests would not be properly playing Quidditch, causing many of you to write to tell us that Quidditch is a real game that real people play. Yeah, we know there's a flightless version of Quidditch – similar to field hockey, but you play with the stick wedged into your crotch – but for attendees of a Harry Potter wedding, it's this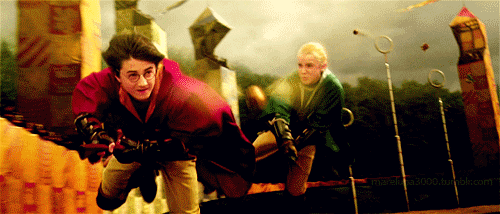 or NOTHING.
Tags: Harry Potter, JK Rowling, Quidditch, sport, weddings